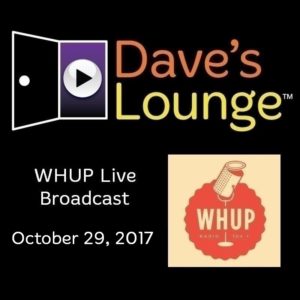 This week's show features a lot of great new music from a number of familiar faces, an hour of remixes from the early days of the podcast, and a set of tunes from the new Soulection compilation Unite, which benefits hurricane relief efforts in Puerto Rico and the Caribbean and earthquake relief efforts in Mexico. You can donate to those efforts and pick up that compilation at: https://www.soulection.com/unite
Tune into Dave's Lounge every Sunday at 3:00 PM Eastern Time (8:00 PM UTC) on WHUP FM 104.7 in Hillsborough, NC, or stream it online at whupfm.org.
Playlist for the October 29 broadcast of Dave's Lounge on WHUP:
(00:00) The Past Present Organization – Beautyfull
(07:42) Boris Carloff – Prayers
(11:25) TOKiMONSTA – Estrange (feat. IO Echo)
(15:37) KAIXEN – Wasting Time (feat. DVWEZ & Native Youth)
(19:01) Torii Wolf – Pain Killer
(24:06) Ruby Wood – Unconditional
(28:36) Gongkreeper – Solitary Soul
(31:56) Chloé – Outer Space
(36:18) ID3 – Ostracised (feat. Enila)
(41:38) Monte Booker – SILVER
(44:26) Ta-ku – Talk Less
(47:10) Naji – Day 1
(50:37) Jarreau Vandal – Kombucha Burps
(56:25) 0fdream – Fallen Angel
(1:00:21) Dive Index feat. Natalie Walker – The World is Kind (2017 Remix V1)
(1:07:04) Kendra Morris – Concrete Waves (DJ Premier 320 Remix)
(1:10:56) Artemis – Here And Now (Colfax Remix)
(1:15:16) Marlena Shaw – Woman Of The Ghetto (Akshin Alizadeh Remix)
(1:20:15) Joey Fehrenbach – Underwander (Little People Remix)
(1:25:32) JES – Two Souls (Hamptons Chill Remix)
(1:30:01) Thomas Lemmer feat. Lena Belgart – Is It Too Late (Stray Theories Remix)
(1:34:44) Niels Binias – Empty Walls (The Walton Hoax Remix)
(1:39:06) Bardo State – Mariposa (Praful's Lovebug Remix)
(1:46:07) Caitlyn Hessell – Always There (Toby Benson Remix)
(1:50:38) Natalie Walker – Quicksand (Thievery Corporation)
Closing bed: Permanent4 vs Multipanel – Mountains in the Distance (P4 Remix)
Enjoy the show!