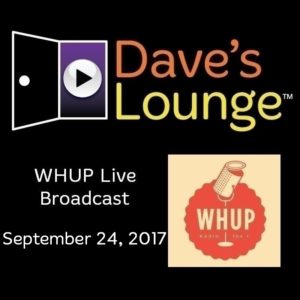 The September 24 edition of Dave's Lounge was my first show back in the studio in about a month. So naturally, things got a little rough during the live broadcast. The great thing about podcasts, though, is that if you screw something up, you can edit it right out, and nobody has to know what mistakes you made. Nothing to see or hear here, folks — except, of course, a lot of great new music…
Tune into Dave's Lounge every Sunday at 3:00 PM Eastern Time (8:00 PM UTC) on WHUP FM 104.7 in Hillsborough, NC, or stream it online at whupfm.org.
Playlist for the September 24 broadcast of Dave's Lounge on WHUP:
(00:00) Della Sol Lounge – Summer Haze
(06:12) Kawehi – GGUU
(09:26) Rhi – Cherry Glow
(12:31) Narrow Skies – Whispers
(15:20) Kaleida – Echo Saw You
(21:15) Evil Needle – Pays Her Bills (feat. Noah)
(24:56) Moonchild – Run Away
(28:16) Alivvve – Clear Sky
(32:29) Polished Chrome – In The Garden (Thomas Lemmer's Bird Symphony Remix)
(37:48) Kasstedy – Runin Through My Blood
(43:52) Jilk – Mum There's Someone In The Garden
(50:26) ODESZA – Higher Ground (feat. Naomi Wild)
Enjoy the show!