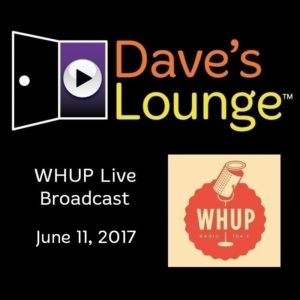 The June 11 broadcast of Dave's Lounge on WHUP was my first show in the studio in a few weeks, and it featured some new vocal tracks, some new instrumental tracks, and a few tunes from the vault. Live shows have a different feel from recorded shows, and this show and the last show demonstrate that pretty well.
Tune into Dave's Lounge every Sunday at 3:00 PM Eastern Time (8:00 PM UTC) on WHUP FM 104.7 in Hillsborough, NC, or stream it online at whupfm.org.
Playlist for the June 11 broadcast of Dave's Lounge on WHUP:
(00:00) Dive Index – The World Is Kind (feat. Natalie Walker)
(06:36) Daktyl – The Act of Hesitation (ft. Krrum)
(10:08) Silky Wave – Under My Skin
(13:35) Andrew Applepie feat. Bjurman – Drowning
(17:25) Alexander Volosnikov – When the Sun Goes Down
(22:33) Zak Damundo – Comedown
(26:06) AndyFellaz – Mo'libre
(29:19) Philanthrope – Sodium (feat. TESK)
(31:20) Placid Larry – Playground
(34:52) Twin View – The Lost Ghost
(41:37) Anthony Valadez – Asleep (feat. Anna Wise)
(45:56) Pocket feat. Tanya Donnelly – Jar Of Fireflies (Pharmatronik Remix)
(50:15) Submotion Orchestra – Broken World
(57:29) Undadogg v. Version Xcursion – Breathe
Enjoy the show!